House removal services with the professionals
For house removal services done safely, efficiently and professionally, talk to the team at Homes2Go. We're a locally owned and operated company based in Whangarei specialising in quality removable Houses to any site across Auckland and Northland.
We're dedicated to providing affordable House removals for your Project. This can be either your own home or one of our stock homes delivered to your site.
Trust our experienced House removal team
The team at Homes2go have a combined experience of over 20 years in house removal services, giving us hands-on, practical skills to carry out each job efficiently and safely.
We work closely with Worksafe NZ, adhering to their procedures at all times, so you can be reassured that all rules and regulations are being followed and that your house will be delivered and placed onsite safely and professionally.
We take Health and Safety seriously, so all our staff are fully trained to the highest standards and we consistently follow all safety protocols and procedures – on every job.
Our experienced staff troubleshoot each job to make sure we have mitigated any potential problems with transporting each house to its site, keeping you fully informed at every step.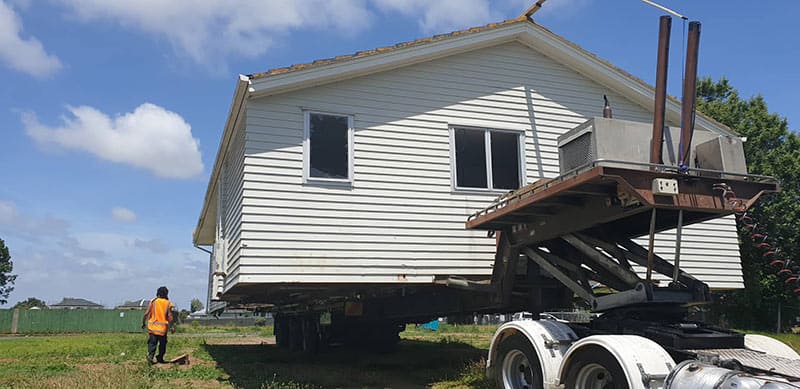 Onsite house placement and foundations
You can trust our team to give you great advice on the best placement for your house onsite and on any site preparation that may need to be done. Our strong network of trustworthy local contacts means we can recommend local subcontractors to carry out any extra work, such as earthworks and site preparation.
We prepare and instal the foundations and carefully place your house onsite, taking the time to ensure that everything is done professionally.
Removable Homes for sale
If you have a piece of land and are looking for a removable home to place on it, we have a range of high-quality removable homes for sale, either still on their sites or in our yards at Ruakaka and Kauri.
You get Peace of mind with our back up service.
We stand by the work we do, so if you experience any problems with your house, give us a call.